Nguyen Ngoc Nhu Quynh, also known by her blogging name, "Mother Mushroom" (Mẹ Nấm), was sentenced on 29 June 2017 in the People's Court of Khanh Hoa Province, after she was detained in October 2016 on charges related to her activism and blog posts. She had been detained for nine months incommunicado before being brought to court last week. International monitors and state embassies were not allowed to follow the court proceedings, which has further raised concerns that she did not receive a fair trial.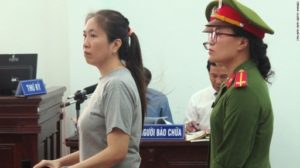 Nguyen Ngoc Nhu Quynh is an internationally honored human rights activist and blogger. She received a Hellman Hammett grant from Human Rights Watch in 2010 as a writer defending free expression. Civil Rights Defenders gave her the 2015 Civil Rights Defender of the Year award. In March 2017, she received the International Women of Courage award from the State Department.
As one of the most prominent human rights activist in Vietnam's digital sphere, as well as the founding member of the Vietnamese Bloggers Network, Nguyen Ngoc Nhu Quynh has exposed corruption, land confiscation, police brutality, as well as advocating for freedom of expression, among other issues. She has voiced her strong support for fellow dissidents and publicly advocated for the release of multiple political prisoners in Vietnam. More recently, with the motto "Fish need clean water – People need transparency" (Cá cần nước sạch – Dân cần minh bạch), she was actively involved in the campaign against the massive environmental devastation caused by the Taiwanese steel plant Formosa in Central Vietnam, which has reportedly destabilized the livelihoods of millions of people across the country.
The detention and sentencing of Nguyen Ngoc Nhu Quynh run counter to Vietnam's international and domestic commitments. Vietnam ratified the International Covenant on Civil and Political Rights (ICCPR) in 1982, Article 19 of which guarantees the right to freedom of expression. This fundamental right has been echoed in Article 25 of Vietnam's 2013 Constitution. However, Article 88 of the Penal code, which criminalises propaganda, defamation, and making or storing of materials against the state with up to 12 years imprisonment, falls far outside of the permitted limitations to freedom of expression allowed under Article 19 of the ICCPR, and allows the state worrying scope to repress expression by human rights defenders and others.
ARTICLE 19 urges the Vietnamese government to quash the conviction of Nguyen Ngoc Nhu Quynh and release her from prison. Furthermore, the government should take immediate steps to revise the vaguely-worded and repressive Penal Code, which is often used to criminalize free expression, and end its crackdown on political dissent.