Today, 28 September, ARTICLE 19 joins the international community in celebrating  the International Day for Universal Access to Information, also known as The Right to Know Day. We remind States of their commitments under international law to protect and promote the right to information. We also look back to our global work over the last year and take stock of the progress made to protect this right globally, regionally and nationally.
The right to information, an integral part of freedom of expression, enables individuals, journalists and civil society to access information held by public bodies and other power holders. It empowers us to hold our leaders accountable, develop a fuller understanding of the world, and ensure protection for other human rights. Over the past decades, governments have increasingly sought to implement this right into their laws in the form of right to information laws or regulations. As ARTICLE 19 Global Right to Information Maps  reveal, 126 countries currently have access to information laws; 96 States have the right explicitly recognised in their constitutions. This means 91% of the world's population lives in a country where they can formally request information from a state or a local authority.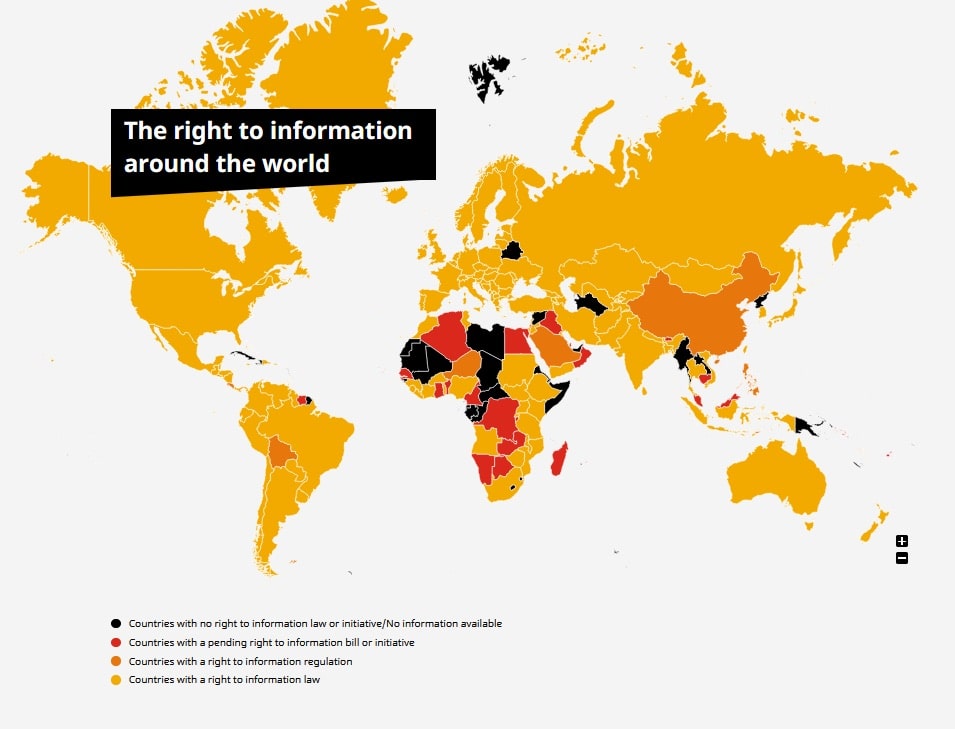 Read more about the right to information around the world and view the map.
Despite these advancements, the right to know continues to need stronger protection in law and in practice. Today, ARTICLE 19 looks at achievements in promoting the right to information globally.
Contributing to the development and enforcement of international standards
ARTICLE 19 contributed to  the new report by the Office of the United Nations High Commissioner for Human Rights (OHCHR) on access to information held by public bodies, aimed at assisting governments in the implementation of their access to information commitments. As the pandemic made it clear how important access to information is during health emergencies, we believe that UN institutions must further improve standards and fill in the existing gaps.
Target 16.10 of the UN Sustainable Development Goals (SDGs) calls on all states to adopt legislation or policies guaranteeing the right to information, which is essential not only for the achievement of Goal 16, but is an enabler to achieving other SDGs. ARTICLE 19 has been monitoring progress on this Target since the adoption of the goals in 2015.
Advocating for the adoption and better implementation of right to information laws
ARTICLE 19 provided technical assistance to The Gambia as the country adopted an Access to Information Bill in September 2021. The process of enacting the Bill has been to a large extent led by civil society through a National Coalition on Access to Information, in which ARTICLE 19 took an active part. We have been actively advocating for the Access to Information Law  in Senegal. Most recently, we called on the new government and parliament to adopt this law as a priority.
In other countries with existing laws, we have been monitoring implementation. For instance:
In

Mexico

, we published the second edition of the

National Evaluation

of the Guarantor Organizations of the Right to Information (ENOGDAI). We analysed the performance of the 33 Guarantor Organizations of the Right to Information (32 local and one federal), based on the obligations and powers granted to them by the General Law of Transparency and Access to Public Information.

In

Brazil

, we have been monitoring the state of the right to information during the election period,

leading a coalition of NGOs that

warned

that

the Electoral Law (9,504/1997)

has been misused by public agencies as a pretext for a radical reduction in proactive transparency. In 2022 bad practice has particularly been observed in federal and state executives and legislatures.


In

Kenya,

where elections took place in August 2022, we collaborated with the Commission on Administrative Justice to conduct a series of regional multi-stakeholder training workshops about the Africa Commission

Guidelines on Access to Information and Elections in Africa (2017)

, as well as regarding the

2019 Declaration on FOE and ATI

#ElectoralTransparencyKe

.

In total, we trained over 150 electoral stakeholders representing four main regions in Kenya: Central, North Rift, Western, Coast.
Supporting civil society and groups at risk of discrimination 
An important part of our work is supporting civil society, journalists and communities in their efforts to use the access to information law to fight for protection of human rights.
In Mexico, our #NosotrasConLaInformacion campaign highlighted how important the right to know is for indigenous women, their peoples and their communities. We produced a series of cartoons looking at the lives of indigenous women in various local and indigenous languages. The cartoons explain how the right allows them to access information that is relevant for their lives, including information about education, health, sexual and reproductive rights, land issues, and social programmes for housing.
In Iran, we examined 117 officially published protest-related access to information requests submitted under the Publication and Free Access to Information Act in 2019. We filed requests to state institutions for a range of information regarding protests, including about human rights violations committed during public actions – chiefly about the number of arrests and the killing of protesters. The research found that Iranian authorities systematically violate people's right to protest and assemble, deceive and lie about the violations they commit and unlawfully keep people seeking transparency and accountability in the dark.
Highlighting the importance of the right to know to protect the environment
Access to environmental information remains a focus of our right to know work. In 2021, ARTICLE 19 was granted accreditation before the UN Environment Programme (UNEP), which will give us more opportunities to engage in their processes and advocate for the inclusion of right to information into their work.  
We highlighted the importance of the right to information for the protection of the environment, beginning with  UNEP@50 in March 2022, and celebrated the 50th anniversary of the founding of the UNEP. The UNEP Political Declaration recognises: 'the importance of access to information, access to public participation in decision-making processes and access to justice in environmental matters'. In June, we took part in the UN Conference on the Human Environment in Stockholm+50, showing how many human rights, such as the right to life, health or water, depend on a healthy environment and how access to information is key to achieve this for present and future generations.  
At the UN, we have been active in promoting the adoption of the UN Human RIghts Council Resolution 48/13, recognising that access to a healthy and sustainable environment is a universal right. This resolution was the first step towards filling a significant gap in international law, as it recognises the link between human rights and the environment. Joining forces with other civil society organisations, we put pressure on UN bodies and, in August 2022, the UN General Assembly (UNGA) passed a resolution recognising the right to a clean, healthy, and sustainable environment as a human right. This was a landmark moment, especially because the UNGA also included the protection of environmental human rights defenders, women, and indigenous peoples as being fundamental, as is their public participation. These are all communities we support with our work.
Our offices in Latin America have been actively promoting the signature, ratification and implementation of the Escazú Agreement, the first environmental treaty in Latin America and the Caribbean on access to environmental information, and the first to include specific provisions for the protection of environmental human rights defenders. It came into force in 2021.
In Europe, we have been supporting and pushing for the creation of a Special Rapporteur on environmental defenders, a rapid response mechanism for the protection of environmental defenders and part of the Aarhus Convention. The rapporteur's role is to take measures to protect any person experiencing or at imminent threat of penalisation, persecution, or harassment for seeking to exercise rights under the Aarhus Convention. 
Our experience and work in protecting access to information on international, regional and local levels have taught us an important lesson. Adopting laws, new standards and mechanisms is a fundamental step to advance the protection of the right. But legal frameworks and commitments from States are not sufficient to ensure full realisation of the right of access to information. Public authorities need to know the law well and adopt a positive attitude towards it, not regard it as a suspicious intrusion into their businesses. People must know that a law exists and that they can use it freely to ask for information. 
Happy Right to Know Day, everyone!