#JeSuisAtena
Watching Atena Farghadani describe the treatment she experienced at the hands of prison guards while held at the notorious Gharchak prison (in her now infamous YouTube video), President Hassan Rouhani's tweet comes to mind: "Art without freedom is meaningless."
This was part of Rouhani's address to six art and cultural guilds last January, where he added: "Every system has its red lines, but it's absolutely essential for these lines to be transparent and clear, so to avoid arbitrary restrictions."
Atena was first arrested and imprisoned last August for a cartoon she posted on Facebook, critical of members of parliament[1]. She was released in November 2014. The tweet becomes even more poignant knowing Atena was beaten in custody after guards discovered that she had used flattened paper cups as canvases in prison.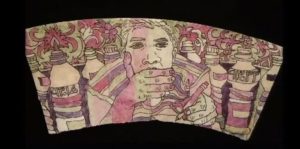 Atena's paper cup art. "I ask that none of you lose your hope or your faith for gaining your rights; for gaining our rights."
Atena was re-arrested just 6 weeks after her release and sentenced to 12 years and 9 months imprisonment, on 19 May 2015. She awaits the outcome of her appeal. Her charges include:
–          Spreading propaganda against the system;
–          Gathering and colluding against national security;
–          Insulting members of parliament through paintings.
Her heavy sentence is a message from the Revolutionary Courts that all acts of expression must remain within set confines, whether artistic expression or not.
Campaigns calling for Atena's release have emerged, including the hashtags #draw4atena #FreeAtena and #JeSuisAtena. Although international attention is an essential for cases such as Atena's, more must be done to hold Iran accountable for its repression of the right to artistic expression. Art is not a crime.
Iran's Internal Cultural Wars
Atena's case is unfortunately not unique:[2] The heavy hand of state censorship has broken many pens and brushes.
Art has been a controversial area for the Islamic Republic, where internal culture wars are constantly in place. Yet, with Rouhani's election, the arts community of Iran had high hopes for change and progress. Rouhani and his Minister for Culture, Ali Jannati, have taken a non-interventionist approach, purporting that it should not be the role of the government to control Iran's artists and cultural industry. Jannati has hinted that that the Iranian judiciary should be "in tune with the changes that are taking place in our country". Unfortunately this has not been the case in practice; the stance remains the same.
Iran's artists must navigate a plethora of censorship blocks. Anything produced that is cultural or artistic (intended for the public) needs prior authorisation from the Ministry of Culture and Islamic Guidance before it can proceed into production. Additionally any plays, exhibitions or films that are deemed to relate to politics, religion, or sexual issues are banned. Navigating these restrictions has become an art form in itself.
A large number of artists have been either harassed or arrested as a cause of Iran's labyrinth of restrictions. For instance, in December 2010 Jafar Panahi was sentenced to 6 years imprisonment, a 20 year ban on film-making under national security charges and "propaganda against the state", along with a ban from making films, giving interviews or speaking to the press. His conviction came after news broke about his proposed documentary on the 2009 post-election unrest.
During Rouhani's presidency, the world-renowned sculptor and painter Parviz Tanavoli has been increasingly harassed, with raiding of his house, closure of his exhibitions, and confiscation of sculptures worth $20-$30m (£13-20m).
Following release of the song "Ay Naghi!" the popular musician and lyricist, Shahin Najafi, was the subject of a fatwa death sentence for apostasy. In May 2015, an ultra-conservative website in Iran offered a reward of approximately $155,000 for anyone who blows up the concert venues of the German-based musician. Although such threats are forbidden under Iran's Press Law, the Iranian government has remained silent.
The mere mention or association with Najafi has also lead to the censorship of Fatemeh Ekhtesari and the imprisonment of Atena Daemi. These are just a few of the more notable cases.
Artist Expression at the Human Rights Council
Without protection, artists are still seen as a "suspect group" which can be targeted at any point. When Iranian artists are amongst the most heavily regulated communities of Iran, it makes one wonder why freedom of artistic expression is not protected or promoted more on an international level.
ARTICLE 19 has joined the call for increased attention on this critical issue at the Human Rights Council. In March 2015, ARTICLE 19 hosted an event on defending artistic expression. Plans are emerging for the Human Rights Council to consider a resolution on protecting artistic expression at the Session that is on-going in Geneva. ARTICLE 19 is calling for the end to impunity for attacks on artists and demands the dismantling such regressive laws.
---
[1] Along with charges for meeting families of political prisoners.
[2] A notable number of other Iranian cartoonists have been incarcerated in the notorious Evin Prison in the past, including Nikahang Kowsar and Mana Neyestai, though their cases did not receive the same attention.