Imagine you're about to board a flight home with your infant daughter when you are both seized and taken into custody by a group of Iran's notorious revolutionary guards.You're detained without charge and placed in solitary confinement. Overcome with fear, you want more than anything to be released and reunited with your family. You'll do anything that you think could help you in the short-term: like handing over the passwords to your emails. You have no idea that the various invoices, family photos and work contracts they contain will be used in a smear campaign against you. This is the situation Nazanin-Zaghari-Ratcliffe faces: victimised by a judicial system which allows flagrant violations of its own laws, undertakes illegal interrogations that border on torture, and violates fundamental rights to privacy.
Iran's recent 2017-2018 anti-government protests saw some of the most severe roundups of arrests since the 2009 protest period. Around 4,970 people have been reportedly arrested since protests erupted in December 2017. While issues of persecution and unjust prosecution are not new in Iran, the lack of due process has come to the fore in recent weeks, not only in how people are detained and prosecuted, but also in how devices are seized and the right to privacy is violated. Notable cases include those of Nazanin Zaghari-Ratcliffe, a British-Iranian aid worker detained in Iran since April 2016, and Canadian-Iranian environmentalist and academic, Kavous Seyed-Emami, who died in custody at Evin Prison on 9 February 2018. In both cases Iran's national broadcasters publicised personal information, emails, and photos confiscated by authorities from detainees to denigrate them as foreign agents.
Public smear campaigns based on confiscated digital documents such as those made against Zaghari-Ratcliffe and Seyed-Emami are rare. But confiscations of personal documents are not; and while they are not normally used for media purposes, they are often used by authorities to further prosecute detainees or prosecute other individuals. ARTICLE 19 previously documented this trend in its 2015 "Computer Crimes" report, whereby authorities used intimidation methods to extract information from detainees. We call on Iran to cease these measures, release prisoners such as Zaghari-Ratcliffe, and conduct a full investigation into the death of Seyed-Emami, and return the passport and ability for his wife, Maryam Mombeini, to leave Iran.  
Nazanin Zaghari-Ratcliffe
On 7 December 2017 Press TV, an English language branch of the Iranian state broadcaster IRIB, released a documentary on Nazanin Zaghari-Ratcliffe's alleged work encouraging 'sedition' in Iran. Aired on the eve of a new court case suddenly created to prosecute Zaghari-Ratcliffe a second time, this documentary in English and Persian appears to confirm Iran's security officials extracted invoices and contracts from her emails. Authorities then misrepresented these as monthly salaries paid by the BBC in an effort to smear her with fabricated responsibilities of opposition to the Iranian government. Photos showing Zaghari-Ratcliffe without a headscarf were spread to denounce her as an agent of the west in Iranian media before her court appearance. This false propaganda was created to block initiatives for her release and justify the violations she endured through her detention. Below is an extract from the Press TV documentary narration:
Iran's information apparatus was studying the Zaghari case before her arrest. She was simply an English teacher in Iran, soon to start journalism. Later she got a scholarship for communications management at England's Metropolitan University […] A security organisation in Iran has given PressTV documents contrary to claims that she is just a mother in Iran. The said evidence shows she was a recruiter for BBC Persian service, targeting youngsters dissatisfied with the Iranian ruling body. She has also participated in other projects for British and US government affiliated companies to recruit and rank people. Her work with the BBC continued with a project called the ZigZag academy in a central call role. The BBC refrained from announcing her as an employee but her BBC payslip can be witnessed.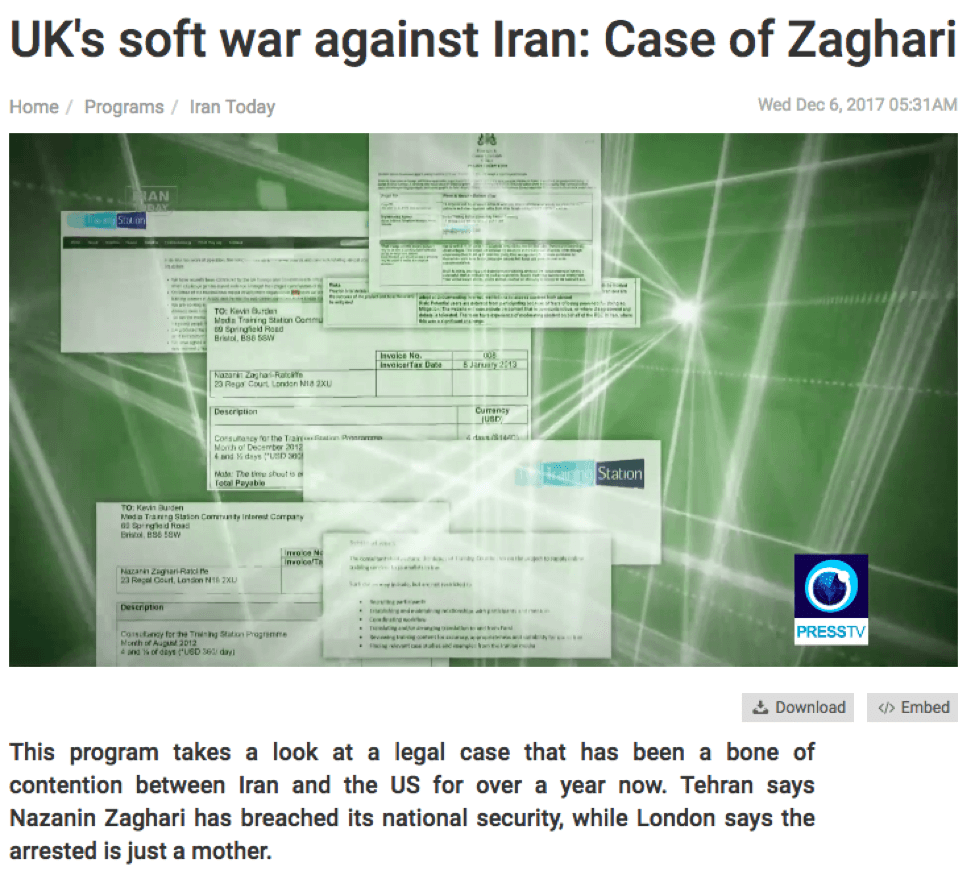 Image: Press TV  images of documents PressTV claim to have acquired through security agencies.
Kavous Seyed-Emami
Kavous Seyed-Emami, a sociology professor and environmentalist at the Persian Wildlife Heritage Foundation, was arrested in January 2018 amid what Tehran's prosecutor justified as arrests of people who had been gathering classified information under the guise of "scientific and environmental projects". Seyed-Emami's death on 9 February 2018 was one in a series of suspicious deaths of detainees in custody. Tehran prosecutor Abbas Jafari-Dolatabadi alleged with no proof that he committed suicide in a statement to ILNA news agency:
"He was one of the defendants in a spying case and unfortunately he committed suicide in prison since he knew that many had made confessions against him and because of his own confessions."
According to the Seyed-Emami family and lawyers representing them, there has been no medical report to verify his cause of death. Authorities have denied the family an independent autopsy. Meanwhile, the Islamic Republic of Iran Broadcasting Corporation (IRIB) aired a documentary based on evidence appeared to have been extracted by intelligence services from Seyed-Emami's devices, online accounts, and physical raids of his family's home, including private family photos and benign communications with associates. One email between Seyed-Emami and a US friend was used in the documentary to conclude Seyed-Emami had ties with US intelligence arms, with no supporting evidence.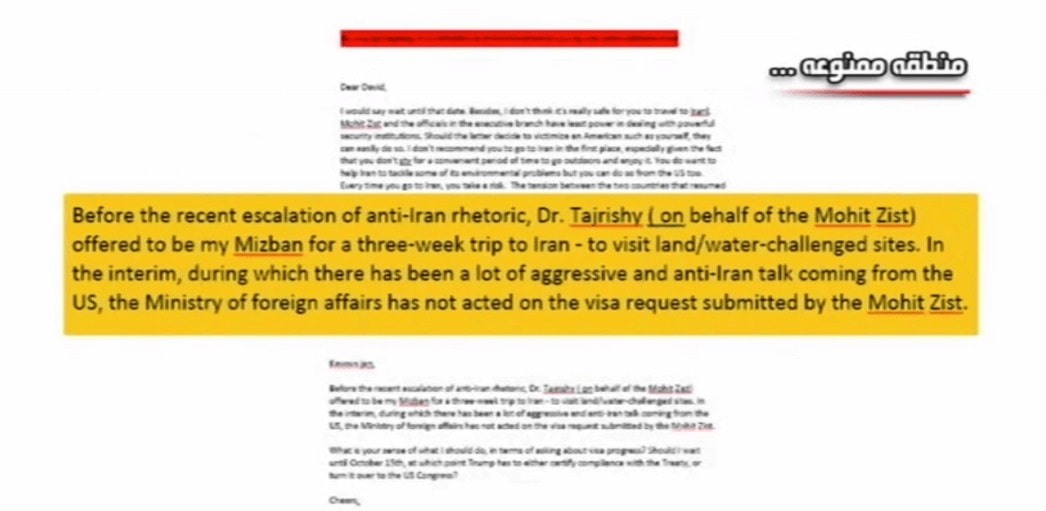 Photo: IRIB's 20:30 show airs a documentary smearing Seyed-Emami as a spy. Their evidence appears to be a seemingly benign correspondence between him and a contact named "David" that the documentary uses to prove Seyed-Emami's role as a foreign spy.
Privacy, fair trials and legality of interrogations
These two cases underline deeply worrying trends for the protection of human rights and fundamental freedoms in Iran; in particular the presumption of innocence, the right to due process and a fair trial, and the right to privacy, as recognised under international human rights obligations.
Firstly, the readiness of Iran's judiciary and the IRIB to accept false narratives of 'espionage' and evidence extracted from private communications and devices of detainees undermines the legality under which evidence is obtained and used.
Secondly, stipulations in both Iran's Criminal Code and Computer Crimes Law on the rights of the prosecutor to access defendants' personal data violate international standards on privacy. The International Covenant on Civil and Political Rights, ratified by Iran, provides that "no one shall be subjected to arbitrary or unlawful interference with his or her privacy, family, home or correspondence, nor to unlawful attacks on his or her honour and reputation". It further states that, "Everyone has the right to the protection of the law against such interference or attacks." Iran's Criminal Code provides powers for electronic accounts and data to be seized in Article 104, with a similar provision within Article 48 of the Computer Crimes Law. Although Article 103 of the Criminal Code states that only documents relating to the crime may be secured, this was clearly not the case for Zaghari-Ratcliffe; the prosecution accessed all of her private and personal data in pursuit of its vague, broad charges.
The illegal detainment and ill-treatment of Zaghari-Ratcliffe and Seyed-Emami, and forcible extraction of their information under illegal interrogations further violate international law. According to her family Zaghari-Ratcliffe was detained without charge at the airport, taken to Kerman, placed into solitary confinement and refused legal counsel when her accounts were seized and searched. This contradicts Iran's own protection of criminal procedures in the Penal Code under Article 12 and 13.  Furthermore, the case against Zaghari-Ratcliffe: built on long, gruelling interrogations, is also illegal under Iran's Penal Code (Article 106) which stipulates that any confessions  "taken under coercion, force, torture, or mental or physical abuses, shall not be given any validity and weight and the court is obliged to interrogate the accused again."
Iran's legal procedures for accessing the devices and accounts of these two prisoners remain unclear. But evidence used in media narratives and adjudications against Zaghari-Ratcliffe and Seyed-Emami prove that the actions of Iran's intelligence agencies, namely the revolutionary guards, have dictated these cases, as opposed to any criminal procedures, laws and regulations. It's more important than ever that Iranian authorities acknowledge protections provided under national laws and the international obligations they are party to, and stop its blank use of "national security" concerns to target individuals and assert power.