In July 2019, governments from around the world will meet for the first time to review progress on transparency as part of their commitments to the Sustainable Development Goals (SDGs). Transparency is a core part of the 2015 SDG agreement, and governments around the world have committed to implement the right to information in their laws. But while there's been a rise in the number of right to information laws adopted – 90% of the world now lives in a country with an RTI law – implementation hasn't necessarily followed suit, and progress is certainly not universal.
In 2015, all 193 UN Member States agreed to adopt Agenda 2030, or the SDGs, an ambitious effort to improve the lives of the world's poorest people, globally, within 15 years. But the Agenda is not just about poverty: it sets out ambitious goals to tackle environmental degradation, gender inequality, corrupt governance, and barriers to healthcare, among the 17 goals agreed. One of the SDGs' most significant commitments is Goal 16, which calls for all countries to "Promote peaceful and inclusive societies for sustainable development, provide access to justice for all and build effective, accountable and inclusive institutions at all levels." This includes important targets for fighting corruption, improving public participation, and public access to information.
But right to information (RTI) is not just a goal in itself – it's a prerequisite to achieving sustainable development as a whole. RTI means improving access to healthcare and water by empowering people with knowledge to demand services; enabling communities to hold governments and companies accountable for polluting their water supply; and holding governments to account for corrupt practices around development projects. Ultimately RTI promotes accountability on development issues as it does for more political matters. Information on budgets, spending, regulations, and decision-making mean people can work from a position of knowledge rather than ignorance and participate in important decisions that affect their lives. RTI is about more than government commitments. It empowers people to participate, advocate and monitor for meaningful progress towards development goals.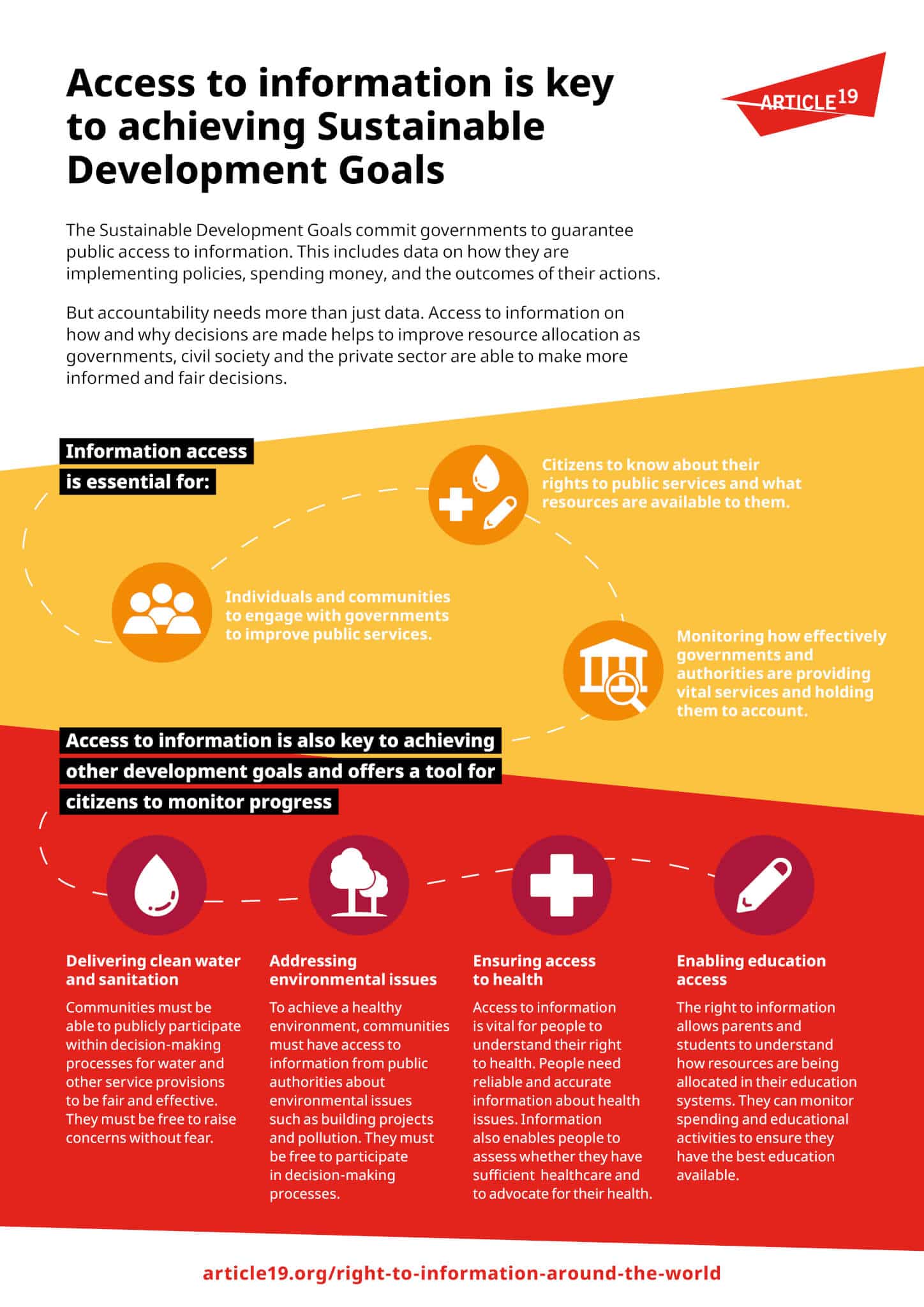 Besides the high level review, over 50 countries will also be producing reports in the next year. called Voluntary National Reviews (VNRs) on how they have been implementing the SDGs domestically. These reports, alongside the shadow reports produced by civil society as part of the process, are an important opportunity to check states progress, and find out if they are really living up to their commitments on guaranteeing peoples right to information.
Download the infographic: