ARTICLE 19's Global Expression Report for 2022 reveals a bleak picture: Only 15% of the world's population – or around 1 in every 7 people – live in countries where they can seek, receive, or share information freely and safely.
More alarmingly still, the level of democracy enjoyed by the rest of us is back to where it was in 1989.
From Russia to Myanmar, and Ethiopia to Brazil, authoritarian rulers like Vladimir Putin, Jair Bolsonaro, and Narendra Modi are continuing to tighten control over what we see, hear, and say.
And the Chinese regime continues to exert ultimate authority over the identities, information, and opinions of hundreds of millions of people.
The report's data shows that globally, freedom of expression has declined significantly since 2011. 80% of the global population live with less freedom of expression than they had a decade ago.
What happens to our world when leaders criminalise those who speak truth to power and attack those who seek their basic rights?
Countries with GxR expression categories 2021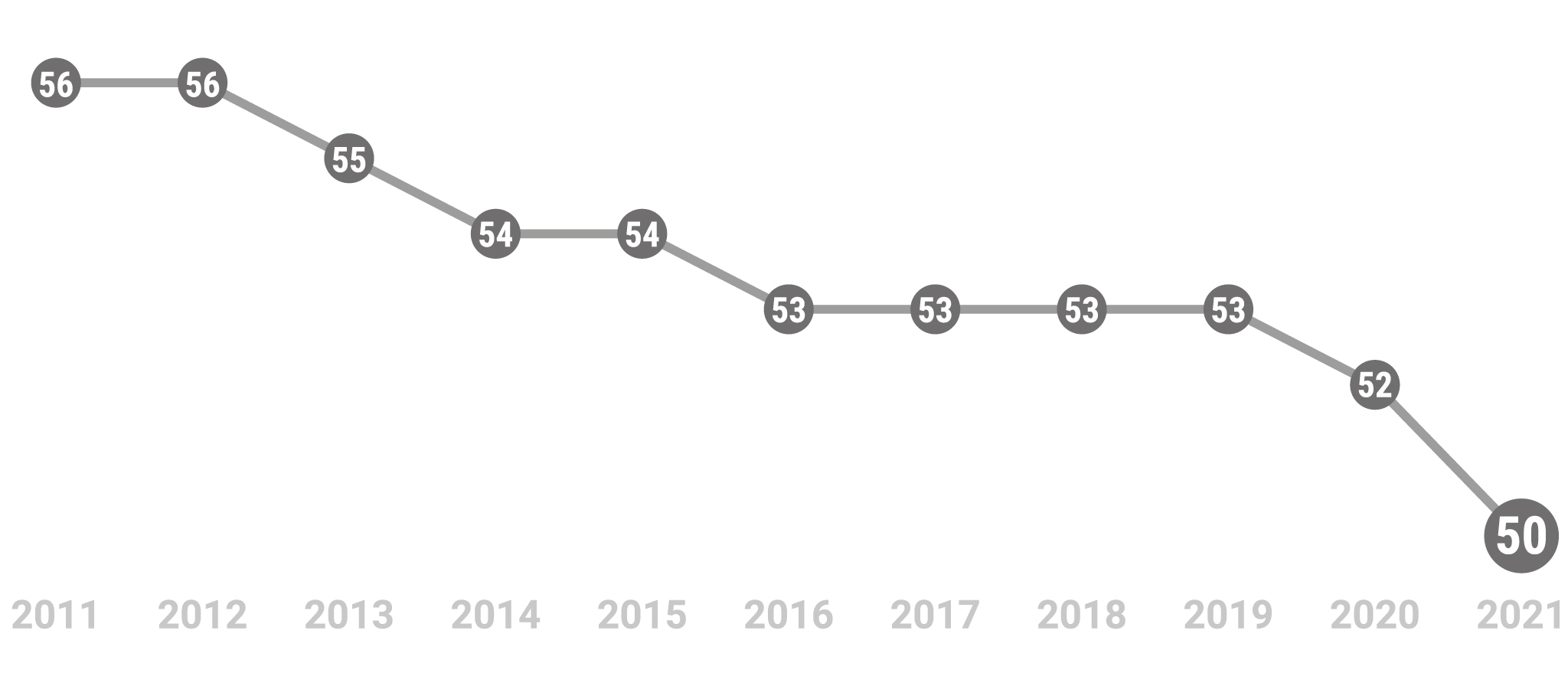 What is the Global Expression Report?
The Global Expression Report is an annual look at the right to free expression and information across the world. The GxR metric tracks freedom of expression across 161 countries via 25 indicators to create a score between 0 and 100 for every country. That score places it in an expression category.
In this year's report, ARTICLE 19 look at changes over time across three time periods: the past year (2020–2021), the last 5 years (2016–2021), and the last 10 years (2011–2021).
The report measures how free each and every person is to express, communicate, and participate in society. This includes the freedom to post online, take to the streets, investigate, and access the information needed to keep leaders accountable.

It also measures whether people can do this without fear of harassment, legal repercussions, or violence.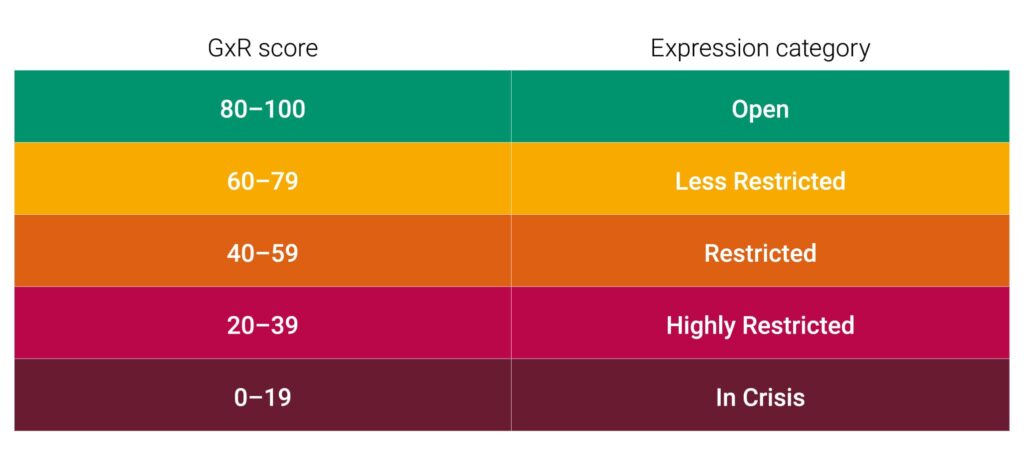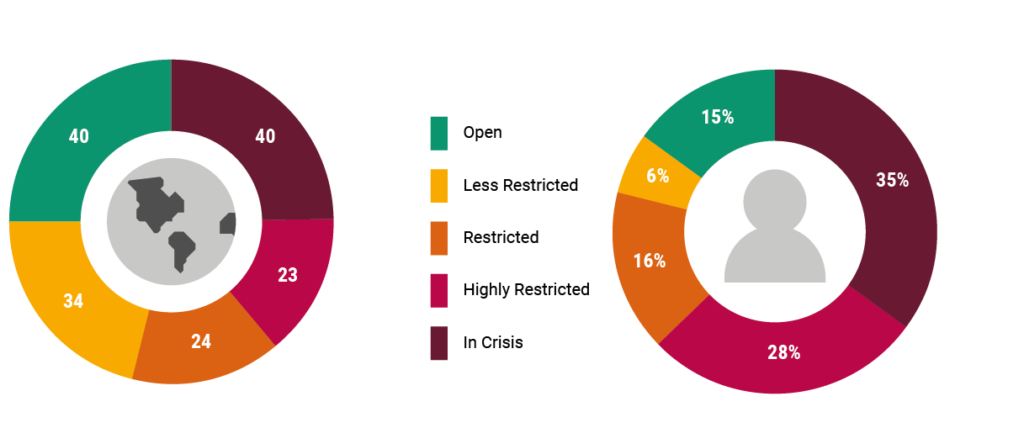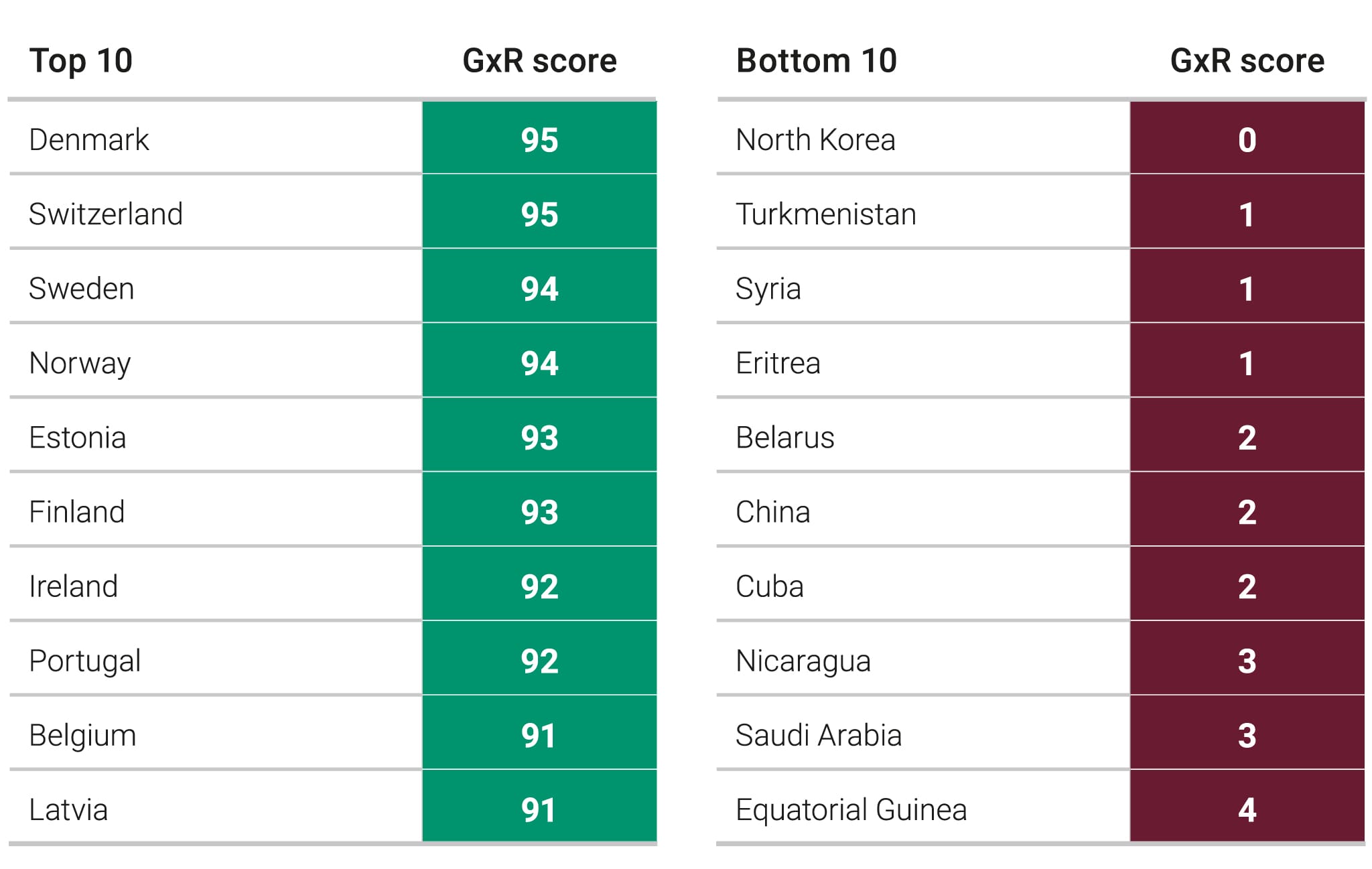 Free expression in 2021: The intensifying battle for narrative control
T
he data does not lie – and the patterns are clear. The pillars of free expression have taken a beating.
Dictators know that by controlling the media, arresting critics, and weaponising the law, the public narrative around their actions can easily be turned into propaganda.
We are seeing more dramatic downward shifts than at any time during the last two decades. Many of these occur as the result of power grabs or coups, but many are more of an erosion than a landslide – often under democratically elected populist leaders.
All regional scores have been stagnant or in decline over the last decade. The Americas; Asia and the Pacific; and Europe and Central Asia have declined. In two regions – Africa and the Middle East and North Africa – no countries are ranked open.
This is grim news – especially when we're all still reeling from the fallout of the pandemic.
The situation is grimmer still because everywhere we turn we see a new crisis: war in Ukraine, soaring inflation, growing inequality, and an impending climate disaster.
How are we going to address these huge challenges if the leaders we elect continue to lie about the long-term issues beneath them?
How much does your government try to control what you see, hear or say?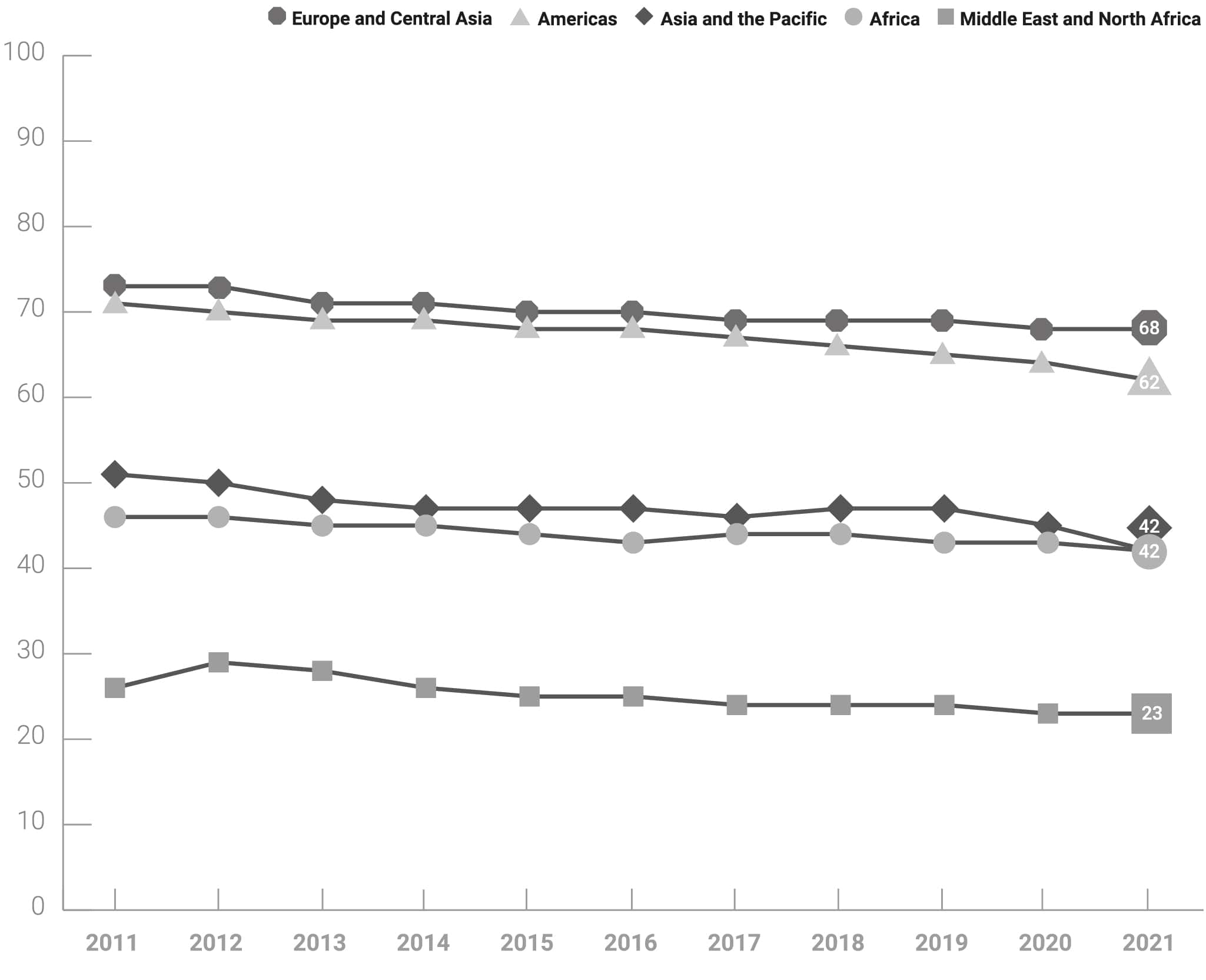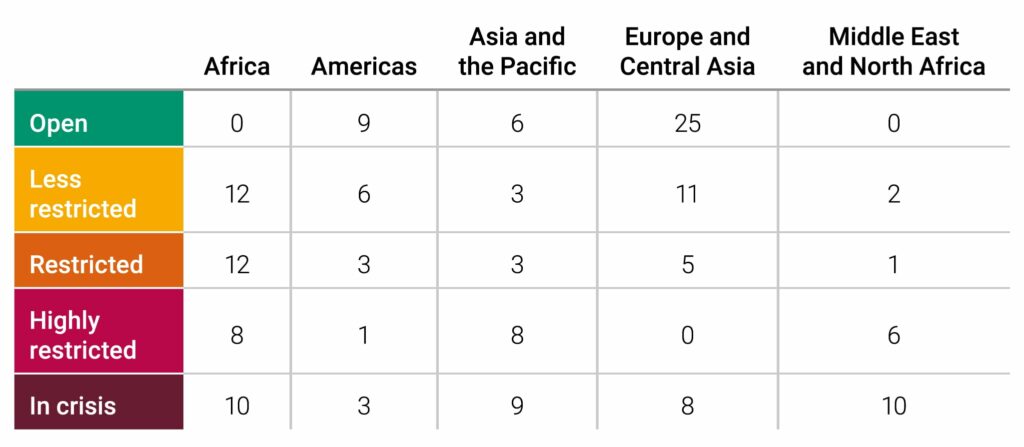 Why is democracy important to protect?
The good news is that democracy is not just about elections. As a government that is 'of the people, by the people and for the people', it is a uniquely participatory process that should be measured not for what it is but for what it aspires to be.
This includes committing to:
Full transparency about everything that governments do
Civil over military power
A plural media that listens to and reflects the voices of those who are silenced
Cooperating and building consensus
Checks and balances in government that prevent a concentration of power.
Because when we become attentive populations, democracy is the only way to keep our leaders (and each other) accountable. Democracy gives us back our power.
Solving the biggest challenges of our time is going to need a level of international cooperation that we have never seen before.
We not only need to elect better leaders, we also need a collective vision and a re-commitment to building strong institutions for stable progress.
Despite the grim news, there is still cause for hope.
People are beginning to understand the dark side of globalisation. The ideology that has privileged the freedom of markets over the freedom of people is simply not good enough.
We see clear attempts to increase corporate transparency and to regulate the power of social media giants.
Despite the continued threat to activists' lives, specific protections are being put in place for the people who work to save our planet.
And globally, 91% of people are now guaranteed the right to information by law.
What's more, demonstrations are growing in strength, and people are resisting with incredible bravery.
Protests in Chile have led to the world's first constitution to be written with a participatory process.
And the biggest and longest protest of 2021 – the farmers' protests in India – forced the Modi administration to repeal laws that would have allowed private companies to control the planting, storage, and price of crops and denied farmers guaranteed prices for their produce.
In short, change is possible.
The power of free expression
"May tomorrow be more than just another name for today."
– Eduardo Galeano, Children of the Days
If we are to build on and sustain these changes, we must reclaim the right to free expression.
With it, every person, every community, and every society can ask for the most fundamental things they need.
Like water, food, shelter, and clean air.
Healthcare, education for our kids, decent work, and fair wages.
For the freedom to practise the faith of our choice or none, to love and marry whoever we want, and to stand in solidarity with those who suffer.
And for rich and poor to be treated equally before the law.
In other words, expression is the lifeblood of democracy.
Reclaim expression to rebuild democracy.
For press queries
To discuss the GxR22, or to arrange an interview with our Executive Director Quinn McKew, or with one of our regional experts, contact press@article19.org or agamaciejewska@article19.org
About ARTICLE 19
Established in 1987 ARTICLE 19 works for a world where all people everywhere can freely express themselves and actively engage in public life without fear of discrimination. We do this by working on two interlocking freedoms: the Freedom to Speak, and the Freedom to Know. When either of these freedoms come under threat, ARTICLE 19 speaks with one voice.
Find out more about ARTICLE 19's work and stay tuned for our campaign in September, #HowFreeAreWe.